I'm So Excited to Help You Lose Weight & Get in Great Shape.
You'll be on your way to an amazing physical and mental transformation.
We'll supply you with new private training sessions, diet plans, and daily support & motivation.
Introducing Our 21 Day Transformation Challenge…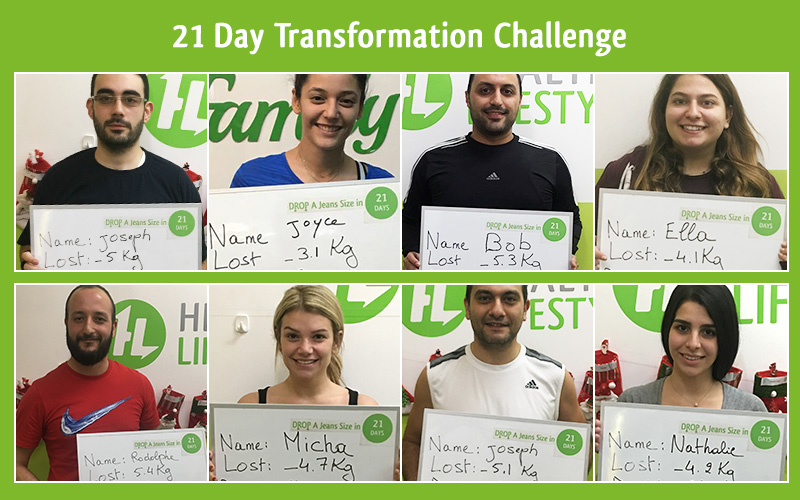 I know it sounds crazy, but if you let us…
We're going to…
Help you lose weight AND keep it off…FOREVER!
Give you the tools to be happier, healthier & more fit than you've been in years…maybe ever!!
Build up your confidence level to stratospheric heights so you can feel at your very best every day!!!
Check out these Amazing Transformations from our previous Challenges:
| | |
| --- | --- |
| Christelle | Mouchegh |
| Bouchra | Jad |
| Nadine | Joyce |
Just take a look at what's included in our Transformation Challenge:
Friday 26 January: Fitness Assessment & Nutrition Workshop

Fitness Assessment
Including your body composition, measurements & "Before" photos (Photo is mandatory).

08:00 pm: Nutrition Workshop
Including 21 Days of Fat Burning Guidelines & Recipes designed by our Nutrition Consultant and Eat Clean Specialist, Remy Samaha to ensure that you reach your goals as quickly as possible.

Monday 29 January: Fat Burning Program

For 3 weeks: Monday, Wednesday & Friday at 8:00 pm
Fat Burning Workouts designed by our Metabolic Training Experts, Fares Saad & Eliane Bou Assy.
You can train with our certified fitness coaches for 3 days per week! .
Training starts Monday, 29 January and goes throughout Friday, 16 February.

Metabolic Core Training Workout

At-home Training Program to give you that "extra edge."
This workout should be done every day through the whole program.

Daily Support And Accountability

We will add you to our Private FB Group to keep you committed to your workouts & healthy eating during our 21 Days Transformation Challenge.
You will have to post daily your meals and workouts done outside the gym during all this time.
You get all this for ONLY $280!
Click the REGISTER NOW button below to Join
SPACE IS EXTREMELY LIMITED – WE'RE ONLY TAKING 7 PEOPLE FOR THIS CHALLENGE
OR CALL US ON 76.150081
Testimonial Disclaimer:
Individual Results may vary, and testimonials are not claimed to represent typical results. All testimonials are real men and women, and may not reflect the typical challengers experience, and are not intended to represent or guarantee that anyone will achieve the same or similar results.